THE MINDREACHER ADVENTURE NOVEL
BUY BOOK: https://www.amazon.com/gp/product/1096303922/ref=dbs_a_def_rwt_bibl_vppi_i0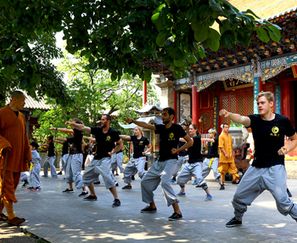 MAJOR JONATHON COULTER, USMC 
Major Jonathon Coulter, USMC, is the hero in my adventure novel series, Mindreacher. He enrolled in the Shaolin Temple Kempo training  in China for several years after high school graduation.  After enlisting in the U.S. Marine Corps, he became one of the few elite warriors to train and work with the United States Navy SEALs.
He was assigned as liaison officer between VESPER (Virtual ExtraSensory Perception Experimental Research) and OSD (Office of Secretary of Defense) to permit him a desk job while recovering from severe injuries during a black operation in the Middle East. 
In the novel he is described as: "... an experienced officer in the Intelligence Support Activity of the Joint Special Operations Command." "... A weapons expert and hand-to-hand combat instructor..." 

It was true Coulter believed remote viewing or telepathy impossible. When first assigned to VESPER as liaison officer with OSD, he'd tried in vain to embrace the psychic concept. It was due to his skepticism that the Secretary of Defense believed the Major would remain unbiased.
KUNG FU THEORY
From the Shaolin Temple website with permission:  "Kung Fu theory is taught during training time by the Headmaster Shifu Shi Yanjun. You will learn about different forms, history of Kung Fu, applications of the styles and forms. Shifu Yanjun gives you a solid base of Kung Fu theoretical aspects and uses and development…"

"Starting the Chinese New Year 2018, Songshan Shaolin Traditional Wushu Academy becomes Shaolin Kung Fu Department of the Shaolin Temple Yunnan. Shifu Shi Yanjun has been officially appointed as Director of the Kung Fu team by the Venerable Abbot Grandmaster Shi Yanbei of the Shaolin Temple Yunnan.  Shaolin Temple Yunnan is under the China Songshan Shaolin Temple in Henan Province."

The Shaolin Temple is a Buddhist temple. All persons there respect each student's religious beliefs. The teachings during lessons are not intended to convert anyone to Buddhist philosophy. They are only examples of conduct principles followed by all faiths. Students who cannot attend the Meditation classes based on their religious beliefs may replace their class with another discipline for their specific goals.
With permission, the picture below shows a man with his fingers positioned at the chest of another. This is part of a technique used in the Shaolin taught martial arts in which an internal organ of the enemy will be destroyed by using the force of the hand and fingers. This method is used by Mindreacher hero Jon Coulter in the mountains of Laos.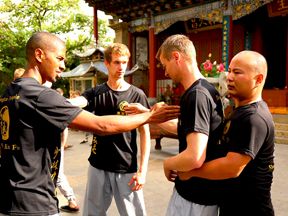 Blog visitors also read: https://www.irenebaron.com/irene_baron_blog1/shaolin_kenpo_martial_arts/
  https://www.irenebaron.com/irene_baron_blog1/mindreacher_adventure__your_summer_read/
Temple URL:  http://kungfushaolins.com/about/  
Shaolin Kempo Karate: https://en.m.wikipedia.org/wiki/Shaolin_Kempo_Karate
Short video:   http://kungfushaolins.com/